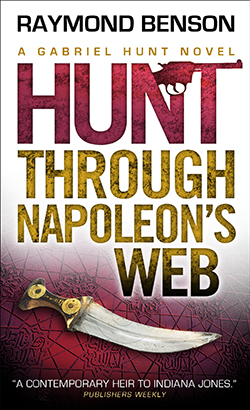 Just received this update from Charles Ardai, the creator of Gabriel Hunt, about the publishing plans for the final volume in the series. I'll hand things over to Charles to explain.
Apologies for the long silence on the Hunt front. As some of you may know,

Dorchester Publishing

, the publisher we've been working with over the past half dozen years, first to put out our Hard Case Crime line of crime novels and then, more recently, to publish the Gabriel Hunt series of

adventure novels

, fell on hard times this past summer and is still digging out from under. As a result, they temporarily stopped publishing new books, and the consequence was that the sixth Hunt novel -- HUNT THROUGH NAPOLEON'S WEB -- didn't come out in October as scheduled. We've been in talks with Dorchester about the fate of that book and the line as a whole, and I wanted to bring you up to date.

Happily, the news is good: In a classic, Hunt-like example of snatching survival from the jaws of certain doom, Dorchester will resume publishing paperback novels in 2011, albeit in the larger '

trade' paperback format

(typically about 5 inches by 8 inches) rather than the smaller '

mass market

' format (about 4 by 7 inches). You wouldn't think that extra inch in either direction would make much difference, but apparently it does for various distribution-related reasons. Alas, it also means that anyone who has the first five Hunt novels in mass market format won't be able to get the sixth in matching size -- and being a collector and a purist myself, I know how annoying that is. But on the positive side, the plan is to reissue all the earlier Hunt books in the new, larger trade size, which should give the whole series a new chance to reach a wide audience.

We don't have a definite date from Dorchester yet for when the trade editions will start arriving in stores, or what the schedule will be, but as soon as we do, we'll let you know. (Yes, if you look on

Amazon.com

, you'll see a projected pub date of

August 8, 2011

for HUNT THROUGH NAPOLEON'S WEB. I'm not sure whether to believe that or not. We'll keep you posted.)

In the meantime, you might be interested to know that a company called AudioRealms is releasing the Hunt novels in audiobook format. They started with HUNT THROUGH THE CRADLE OF FEAR (a personal favorite of mine...), and I have to say that the performance by reader Jim VanDusen is first rate. The unabridged reading runs 8 hours, so you've got several car rides worth of adventure in store for you! And AudioRealms is working on the other Hunt novels as we speak -- hopefully you'll be able to get all six before too much longer. If you'd like to try CRADLE OF FEAR, you can get it on CD or download it to your computer immediately as an mp3. Just go to

www.audiorealms.com

and click on the Hunt cover on their home page. (It's in the third row.)

And e-book editions of the first 5 titles are still available, with the e-book of #6 scheduled to come out at the same time the paperback edition hits stores.

So...Gabriel Hunt is still alive and kicking. He's taken a bit of a beating, but this is one man who knows how to get up again when he's down. Stay tuned for more news -- and for more adventure.