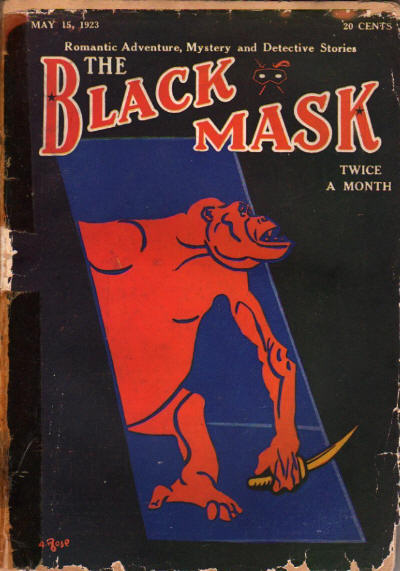 Carroll John Daly's short story "Three Gun Terry" is credited as being the first hardboiled mystery. It was published in the May 15th, 1923 issue of
Black Mask
, several months prior to Dashiell Hammett's first Continental Op story. I came across the story in William F. Nolan's
The Black Mask Boys: Masters in the Hard-Boiled School of Detective Fiction
(William Morrow and Company, 1985), an excellent anthology that includes not only Daly, but also Hammett, Chandler, Erle Stanley Gardner, Horace McCoy, Frederick Nebel, Raoul Whitfield, and Paul Cain.
Daly's reputation seems to have suffered the most from that original core of writers. Nolan makes no bones about his criticisms against Daly: "The writing was impossibly crude, the plotting labored and ridiculous…" Nolan's complaints don't end there: "His dialogue was impossibly stilted…Yet despite all this, Carroll John Daly stands, historically, as the father of the hard-boiled private eye." In fact, the only standout praise for Daly that I can think of is from
Mickey Spillane, who openly acknowledged his debt of gratitude to his pulp predecessor
.
Daly's historical importance and critical dismissal has always made me curious about him. Previously I had read
The Man in the Shadows
(1928), which was quite enjoyable and, while far from a masterpiece, was certainly not embarrassing. I have several other novels sitting on my shelf waiting to be read – so, in the meantime, I decided to go back to Daly's roots and read the famed beginning of it all.
The opening of "Three Gun Terry" reads almost like a manifesto.
"My life is my own, and the opinions of others don't interest me, so don't form any, or if you do, keep them to yourself. If you want to sneer at my tactics, why go ahead, but do it behind the pages—you'll find that healthier."
It is as much an introduction to the main character, Terry Mack, as it is a warning to the reader.
As the story begins, business is slow, and Terry Mack is stalking the streets of New York looking for trouble – which means work for him. Purely a business man, he states his terms plainly:
"Fifty dollars a day, and five hundred bonus when I deliver the goods…And for every man I croak—mind you, I ain't a killer, but sometimes a chap's got to turn a gun—I get two hundred dollars flat."
And when comes across several men chasing a woman down a dark street, he seems to have found his job.
Jumping onto the side of the car, he rides alongside the kidnappers all the way to the Bronx where he takes back the girl at gunpoint and returns her home. He is hired by her uncle to help find a missing scientific formula that is worth a considerable sum of money. Terry signs on, but when he shows up the next day to begin work, he finds that the formula has suddenly reappeared, and he is offered a large sum of money to forget the whole thing. Terry takes the money, of course, but he hasn't forgotten anything - least of all the man hiding behind the curtains with a gun…
The archetypes are all set to go in this story: rogue hero neither on the side of the law nor against it, streetwise and with a strong enough reputation that he not only has connections to the underworld, but that they also know enough not to cross him. The plotting is swift, with action and violence a plenty, and even a beautiful dame thrown in the mix. All in all? It's a solid story, one worth revisiting in the future.
Still, parts of the story don't hold up as well as others, particularly the narration. Daly makes it painfully clear that he is speaking to "you, the reader." It almost feels as though the narrator is bragging at a bar, emphasizing his quick draw and deadly aim. Nolan is also right that sometimes Daly's prose can feel clumsy and imprecise. Yet at some moments, there is a ferociousness that still comes through some eighty-six years later.
I am looking forward to reading more of Carroll John Daly, and will be sure to blog about it in the near future. If you're read Daly before, please chime in and leave a comment, I'm curious as to what other readers think of him.
Also—many thanks to Phil Stephensen-Payne and his
Galactic Central
site, which houses a great archive of
Black Mask cover scans
. Drop by and enjoying browsing!