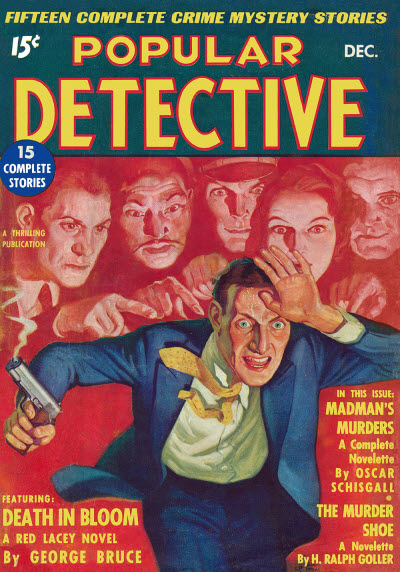 Perusing
PulpGen
for this week's
Stories for Sunday
I took a chance on an author I had never heard of before – John L. Benton. Among the many stories on the site were two pieces of flash fiction,
"License to Hell"
(
Popular Detective
, December 1935) and
"No Blood"
(
Popular Detective
, January 1936). Both are savage stories of killers without mercy. Hardboiled to the core, and with a cruel sense of irony, Benton doesn't allow anyone a happy ending. In a single page, he packs in a bleak worldview that is unmistakably
noir
.
A brief synopsis and quote for each story:
"License to Hell"
A wanted killer takes to the lam and forces a reformed crook to aid in his escape.
"Automatic gripped in gaunt hand, "Cop-Killer" Merkle jabbed its muzzle hard against the whimpering man before him. "
"No Blood"
Two siblings find themselves at opposite ends of the law: one is a ruthless criminal, the other a pitiless detective.
"His brother lay sleeping in the next room—a sleep from which he would never awaken, Graemlein was grimly resolved. He went carefully into the bedroom. In his hand he held the hypodermic syringe filled with a pale, deadly fluid of his own concoction."
There seems to be scant information on Benton either in print or on the internet – and what little I could find is certainly conflicting. "John L. Benton" seems to have been the pseudonym for several different authors, all writing mystery fiction during the 1930s and 1940s. (An Amazon.com customer seems to have also been confused and left their
trail of information in a review here.
)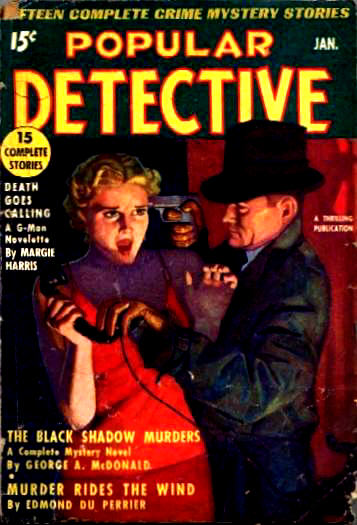 According to Steve Trussel's

a.k.a.
, Benton is one of many names used by Norman A. Danberg (1906-1995).
Magic Dragon Memorabilia
confirms this information, and has a short bio that states he attended college at Columbia University, New York University, and Northwestern University, and married a Dorothy Daniels in 1937. They also mention that he wrote 61 novels and hundreds of stories, though no particular titles are mentioned.
Phil Stephensen-Payne's
Galactic Central Publications
has two listings for Benton.
One is for Danberg
(whom apparently also went by Norman Daniels) – though his birth date is listed as 1905, and not a year later as by Trussel.
Elsewhere on the site
, "John L. Benton" is credited as a house name used by multiple authors, none of whom are listed. Both bibliographies list different mystery stories being published during the same period of time, and in similar publications (such as
G-Men Detective
), but none of the stories appear on both lists.
Confused by this information, I dropped by my favorite local bookstore,
Partners and Crime
, where Steve consulted Allen J. Hubin's
Crime Fiction: A Comprehensive Bibliography
. "John L. Benton" there is listed as the pseudonym for Thomas Albert Curry (1900-1976), who also published under the names Albert Jeffers and Stephan Duane.
A post on Mystery*File
about Gateway Books seconds this connection between Benton and Curry. Coincidentally, they also list "Norman Daniels" as a writer for this company, and give his penname as "William Dale," which was also listed by both Trussel and Magic Dragon. Bill Pronzini has posted
covers to a handful of Gateway titles online
, including two novels by Benton –
The Art Treasure Murders
(1940) and
Talent for Murder
(1942).
So, who was this John L. Benton who wrote these stories? While I can't say for sure, one thing is certain: these two stories are classic examples of high-quality hardboiled fiction.
And special thanks to
Galactic Central Publishing
for providing the images for both issues of
Popular Detective
.
Be sure to browse their incredible archive here
.