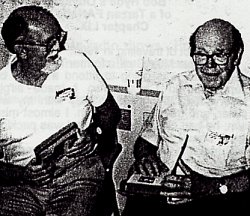 Before he was writing

Halo for Satan

,

Halo in Blood

, and

The Taste of Ashes

, Howard Browne was like the rest of us (well, maybe his life was a little more colorful and exciting than mine -- ok, a lot more). In his own words, here is the inauspicious beginning of Howard Browne's career as a writer.


In 1937 I was in my early thirties, and I told my wife, "I'm going to be a rich and famous writer."


She laughed, saying, "You never finished high school . . . "


"I can read – I figure I can write," was my reply. I had read Jack Woodford's Trial and Error, a book about how to become a professional writer, in which he makes it look so easy, and he said the easiest people in the world to write for were the newspaper syndicates -- if you could spell correctly, they'd buy it.


I'd seen that in the Chicago Daily News they ran a daily short story -- a thousand words. I thought, lemme try it, I ought to be able to write a simple little plot, and I wrote a couple. I wrote them in longhand, but had my secretary type them up at the office. I sent them to Pat Lowry, and soon had a phone call telling me to come in and see him. I thought maybe I'd plagiarized something unconsciously, but I went in to see him. He said, "I'm buying these two stories, and I'll pay you $15 a piece, but don't write any more for me." The Lord giveth and the Lord taketh away.


I said, "Why not?"


He said, "You write too well for this market -- try the pulp magazines."


I went home and thought, "Pulps? Fuck that, I'll write a novel!" I'd been an avid reader of Edgar Rice Burroughs, so I thought, hell, I'll write a Tarzan story -- I know 'em backwards. But I had to prepare myself for it. I took his books and made lists of adjectives -- describing jungle, describing animals, action, etc. -- and I categorized them. So, if I'm writing and I want to describe the jungle, I turn to this list of fine adjectives -- I handled it like I'd handle a problem in school! And I wrote Warrior of the Dawn – it took me 52 Sundays, because that was the only day of the week I had the time to write. A local bookseller, Max Siegel, sent it to a publisher, and he got ahold of the publisher's reader's report, the opening line of which was: "Take the typewriter away from this man before he hurts himself." Now that doesn't exactly fill you with confidence! Then it got nasty. I could have killed the guy. His name was Lawrence Dwight Smith. Later on I wrote a book in which I killed off a Lawrence Dwight Favelle, so I got him.

--Howard Browne, "A Brief Memoir"